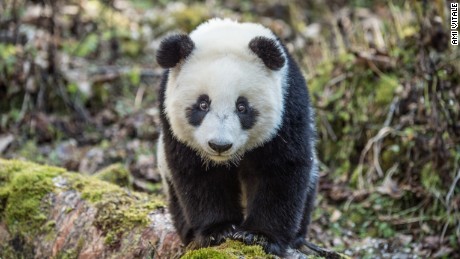 (CNN)Ami Vitale has got President Obama beat.
In China, where the photographer was documenting panda activity, her work was so well received that Wolong National Nature Reserve program director Zhang Hemin allowed her to hold two baby pandas. (The leader of the free world only got to hold one.)
But this was not Vitale's first passion. She was originally a conflict photographer covering violent war zones around the world.
Nature photography came calling after Vitale decided to take a six-month break: "I was covering these conflicts for quite a long time, and I was burned out and had post-traumatic stress disorder. I told myself I was going to take six months off — I needed that to just heal."
An environmental charity called
The Nature Conservancy
offered her the chance to "see all the beauty and the magic that exists everywhere," as she describes it. Vitale abandoned her six-month break and seized the opportunity.
What followed included a lengthy series called "
Kenya's Last Rhinos
" about rangers caring for the handful of remaining white rhinos in the world.
"I've been on this mission to go and tell these stories about people risking their lives," Vitale explains. "(The rangers) are taking care of these animals all day long, fighting off lions, fighting poachers, and (the rhinos are) like their own children."
Unfortunately, despite the efforts of rangers and Vitale's documentation of their efforts, she says the white rhino is "functionally extinct." However, on the other side of the world, Vitale has been able to share a success story: it was recently announced that the giant panda is
no longer an endangered species
.
"A minor miracle"
"
Pandas Gone Wild
" depicts what Vitale calls "a minor miracle": a program at the Wolong National Nature Reserve releasing captive born pandas back into the wild.
"It turns out that after one generation in captivity, pandas forget how to live in the wild, and you have to train them," she explains.
Photo by @amivitale on assignment for @natgeo. Wolong Reserve keepers transport Hua Jiao (Delicate Beauty) for a health check before she finishes "wild training." The habitat also protects red pandas, pheasant, tufted deer, and other species that benefit from giant panda conservation. Read the @natgeo story in the August issue and online through the link in my profile. @natgeo @natgeocreative @thephotosociety @nikonusa @instagram #nikonusa #nikonlove #nikonnofilter #nikonambassador #nikond4s #wolong #sichuan #china #climatechange #conservation #natureisspeaking #savetheplanet #photooftheday #photojournalism #panda #pandas #babypanda #ipanda #giantpanda #pandacub #amivitale
Embedded with the program, Vitale had to work incognito, wearing a panda suit laced with their scent, so as not to unsettle the bears.
Vitale finds plenty of common ground between the animals and their human carers.
"I think all of us, every creature, is a big mystery," the photographer says.
She suggests the key is to give the subject enough time to reveal themselves. Vitale should know, having been an "incredibly shy, introverted and gawky" child before picking up a camera.
"The first time I held a camera it became this incredible tool for me to go out and engage with the world," she remembers. "Suddenly I realized that I didn't have to be afraid of people. And so photography became my passport to really go out and feel empowered."
Read more: http://www.cnn.com/2016/09/22/arts/pixel-ami-vitale-photographer-pandas/index.html