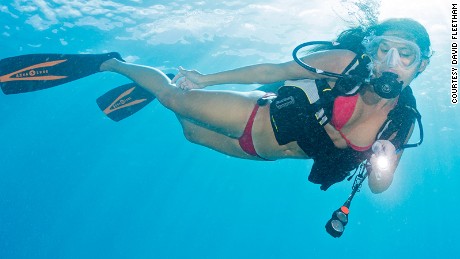 (CNN)Seems like everyone's a halfway decent photographer these days thanks to better gear, flashy phones and clever digital filters.
When it comes to underwater photography, though, few people have what it takes.
Perfect sub-aquatic images involve a new level of skills, like framing a shot while maintaining buoyancy and not getting eaten by predators.
So where to start?
We asked some of the planet's best underwater shooters for tips on the technique and equipment they use to make superlative marine photography.
They shared their secrets and some of their best shots.
Brian Skerry
Now it involves hours each and every day with my computer working in Adobe Lightroom, Photoshop and on my
website
, along with Instagram and Facebook, to get my images out all over the globe.
Oh, and periodically I get to take my camera underwater and shoot new images somewhere in the world, or in my backyard, which continues to be a rather fascinating latitude.
What's the hardest aspect of underwater photography?
If you told a professional above-water photographer that you wanted to hire him to shoot, but you can't be sure what the subject really is or if the subject will be there, he must select his lens before he begins, carry all his camera and lighting equipment during the entire process and would only have an hour to shoot before he runs out of air — this would be where you hear a "click" on your end of the conversation.
If you had to give one tip for capturing compelling images, what would it be?
Picture the image you want to get.
Get it.
Check everything on the display on the back of your camera to be sure and then continue with the same subject, changing angles, backgrounds, anything that you can think of.
Use that unlimited number of exposures and then try what you don't think will work, or what someone told you would not work.
You might surprise yourself and the rest of us.
What camera setup would you recommend to the scuba diver just getting into underwater photography?
I have shot with Canon SLRs for 40 years and continue to recommend them.
I use Ikelite housings and strobes because they were the first company to really nail down the electronics to utilize TTL strobe exposures, which make a huge difference in many cases underwater.
That said, I did a trip to shoot great white sharks off Guadalupe Island last year and the guy beside me in the cage got some great shots with a GoPro on a stick.
Is there a place you've never been or an animal you've never shot that's still on your wish list?
I have been to Africa, but just to photograph great white sharks.
I would love to spend more time on the east coast and out into open ocean to experience the sardine run and all that goes along with that feeding frenzy.
Read more: http://www.cnn.com/2016/05/25/travel/qa-diving-photographers/index.html